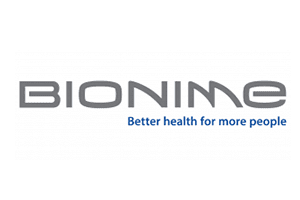 Established in April 2003, BIONIME is specialized in the business of biotechnology and medical testing. BIONIME integrates top-tier expertise in medical science, chemistry, electronics and precision engineering to commercialize our patented noble metal, biosensor technology used in our meters and test strips.
Today, BIONIME employs more than 500 people and operates 4 subsidiaries in Europe, the Americas, Australia and Asia. Our products have been shown to meet or exceed the highest standards of accuracy and precision in numerous independent studies published in leading international clinical journals. Bionime products are distributed worldwide and are available in all the major markets.
On December 19th, 2011, GE today announced it has entered into a new worldwide licensing agreement with Bionime, a global leader in biotechnology medical testing, to provide new GE-branded solutions for the diabetes market. In addition to GE branded products, Bionime also manufactures diabetes testing products under its Rightest brand as well as private label brands it distributes through its global distribution network.