Interested in developing a new clinic in your community? Here are a few questions to consider as you get started…
Is there already a free or charitable clinic in your community?
What are the healthcare needs in your community?
Will people in your community support a free clinic with their time and money?
Is there a local physician who can be the clinic's Provider Champion?
Are local healthcare professionals willing to volunteer?
Start a Clinic or Expand Clinic Capacity
Interested in starting a free or charitable clinic or expanding your current clinic's capacity?  The NAFC Volunteers in Medicine clinic development program can help!  There are also NAFC partners that can assist.  Learn more below…
NAFC Volunteers in Medicine Program
In 2021, the Volunteers in Medicine (VIM) clinic development program moved to the NAFC. The NAFC Volunteers in Medicine Program builds and supports free primary healthcare clinics emphasizing the use of practicing and retired medical and community volunteers. Through the NAFC's VIM Program, we can help guide you through the development process, providing direction, inspiration, and support along the way.
Legal and Operational Guide for Free Medical Clinics
The "Legal and Operational Guide for Free Medical Clinics" authored by the American Health Lawyers Association and funded by the American Medical Association is designed to provide important legal and operational information at your fingertips!
Included in this Guide is information on a variety of legal and operational issues for clinics to consider, such as the scope of services to be provided, funding sources, 501(c)(3) tax-exemption, recruitment and licensure of medical volunteers, insurance coverage and liability, prescription drug management, patient privacy, and quality of care and other patient care issues.
Additional Clinic Development Resources
RotaCare Free Clinics
The RotaCare mission for over 30 years has been to develop, support, and enhance the delivery of free medical care for the relief of pain and suffering to those people with the most need and who have the least access to medical care, by establishing and supporting clinic corporations to provide such medical care.
RotaCare provides a proven model for developing and operating a free clinic utilizing local volunteers. We can provide a guidebook and virtual support for the first year of start-up effort.
Your clinic can collaborate easily within the network of other RotaCare free clinics nationwide.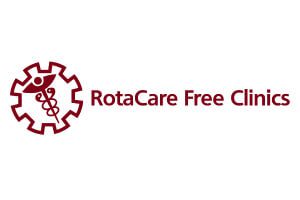 ---
Christian Community Health Fellowship (CCHF)
Christian Community Health Fellowship (CCHF) is a nationwide community of Christian health professionals and clinics dedicated to living out the gospel through healthcare among those who are poor or marginalized. Our staff has over 40 years' experience assisting faith-based groups. Along with our staff is a national community of faith-based clinics of all sizes and models, serving all types of patient populations, and who are committed to helping each other grow. CCHF develops, trains and coaches advisory boards, governing boards and executive teams who understand the unique culture and mission that are the mark of effective faith-based clinics, and become models of integrated primary care and mission-faithfulness. Our staff provide technical assistance and coaching in areas such as needs assessments, strategic partner development, operational processes, and strategic planning and implementation that develop into quality, sustainable clinics.
Visit our website CCHF.org or contact John Mills at Jmills@cchfmail.org to learn more about resources available for faith-based groups.